Oct 2 – Dec 31, 2020.
II: Introduction

Tending to the cornerstones of human connection, AORA:II brings together ancient and contemporary works from Rome and the Cyclads, to Singapore and India, around the universal tradition of storytelling. 'A Hurrian Meditation', a new composition by Alex Mills inspired by the Hurrian Songs – the oldest known notated music in the world written in c.1400 BCE in what is now Northern Syria – permeates the spaces with responses by Lara Jokhadar (soprano) & Stephen Upshaw (viola). Weaving threads between people across centuries, cultures and ages, stories ignite wonder but equally urge relationships, to a cause, to a place, to a person. In considering how communication sparks, and how stories are passed on, there's a scientific recognition that what is said verbally is roughly ten percent of what we mean, leaving a plethora of room for other manners of expression: physicality, image, gesture, form. Dots that can be filled visually, orally, sensorially.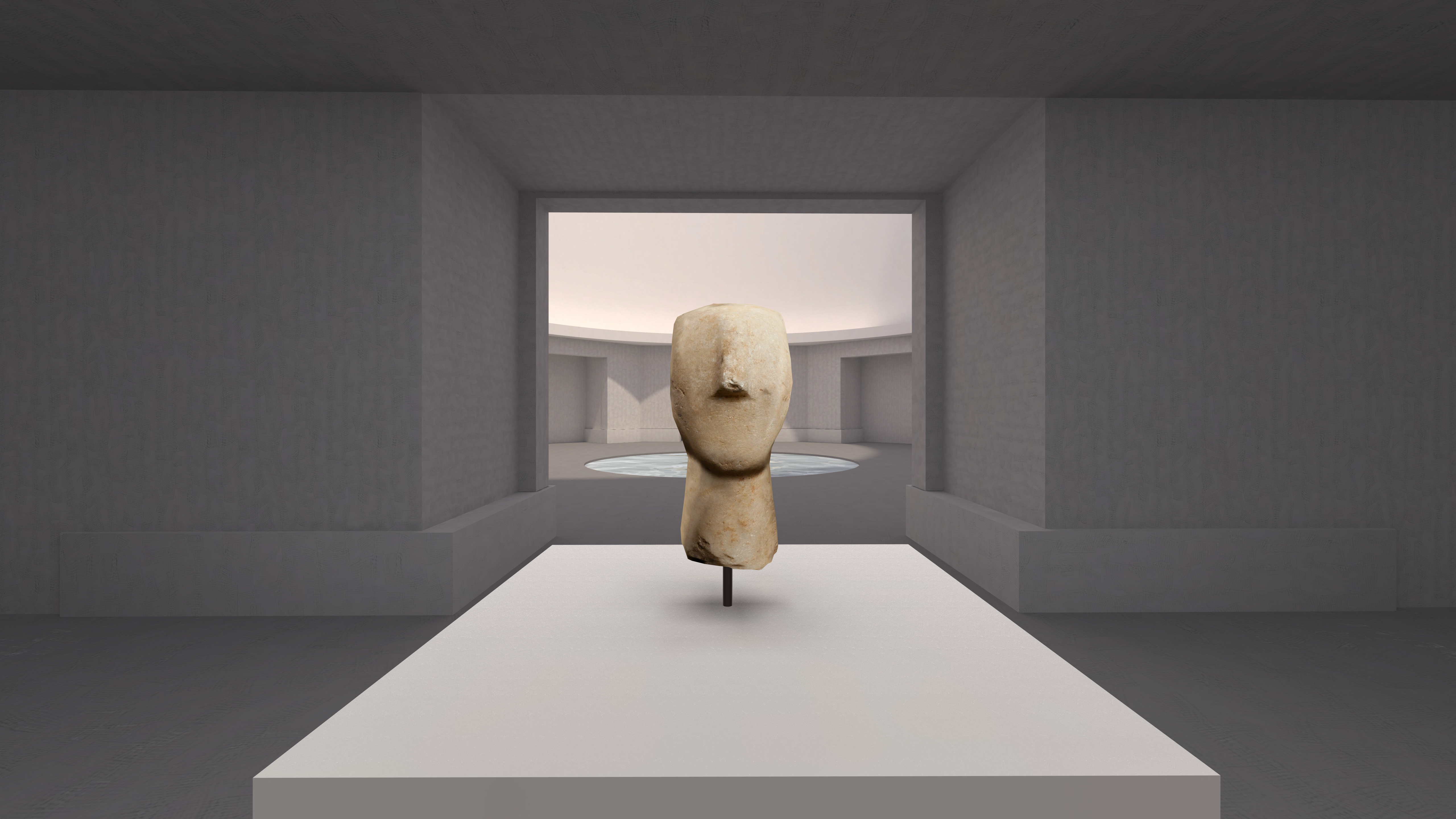 The Hall – expansive, airy – responds to the spectrum of tales, from their fantastical floral and faunal intensity as exemplified by Reena Saini Khallat (b. 1973, New Delhi) in 'Cleft' (2017) over to starlit dreaminess, reminiscent of candlelit seances or astrological wonders as per Mona Rai (b. 1947, New Delhi) in 'Getting Tangled in the Stars' (2015). Spread across the floor is 'Geometric Mosaic with Head of Medusa I' (1st-2nd century A.D.) made of Roman stone, reflecting that tension between beauty and bestiality, a push and pull that is addressed abstractly in 'Oxidization/Immolation 4' ( 2016-2019) by Andrew Luk (b. 1988 USA, lives Hong Kong) in which homemade napalm has been torched upon a copper slab, pulling on the edges of destruction and creation. Moving towards a comparative sense of misleading simplicity are the fine, deliberate and smooth lines in Genevieva Chua's (b. 1984, Singapore) 'Edge Control' works that play with form and monochromatism; unlimited by the traditional layout of a canvas, their geometry plays with the layered complexity of 'Geometric Mosaic with Head of Medusa II' (1st -2nd century A.D.) in Roman stone, spread across the floor. Tending to overlapping narratives and the complexity between sight and actuality is 'In An Aeroplane over the Sea, Ash' (2019) by Dawn Ng (b. 1982, Singapore) that depicts a faint turquoise abstract landscape that contrasts with its title, a dualism that also exists in the 'Story of Two' (2019) by Imran Qureshi (b. 1972, Pakistan). Ultimately, the complex articulation between simplicity, vivacity and dreaminess across the ages is found in the 'Moon II' (2017), a marble work by Su-Mei Tse (b. 1973, Luxembourg) that points to the cosmos, and its constant, evolving, variating beauty.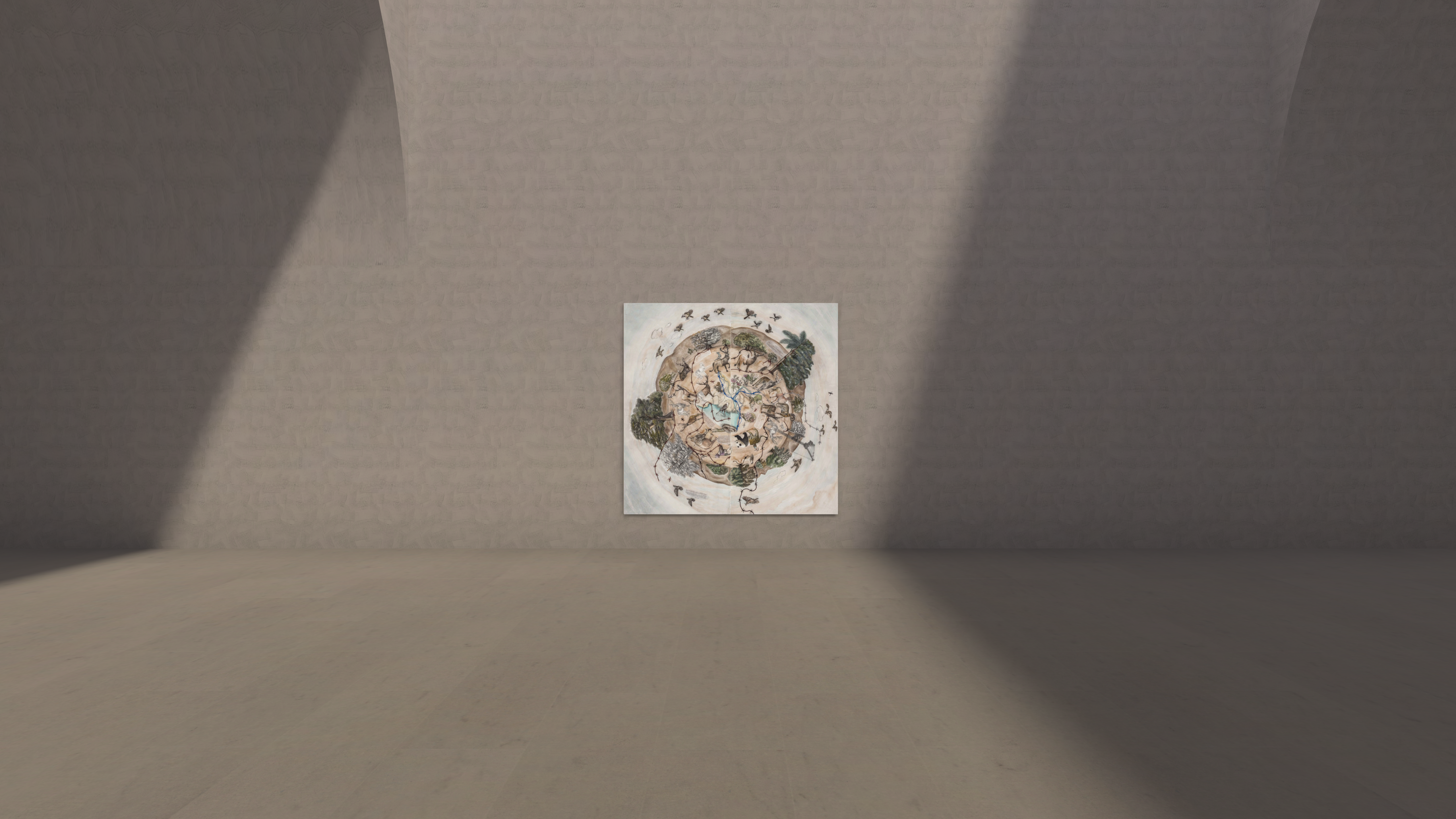 Moving between The Hall and The Place, an extended passageway lends a focus to a Cycladic Idol Head (2400-2300 B.C, Greece) in the centre of the room. There is a sense of heroism but also dignity and elegance, the smooth lines evoking a sense of dignity. It equally hints to the ancient history of the second hall, inspired and derived from the Domus Aurea, which Emperor Nero centuries later built under Rome but was shortly burnt down, never to be seen. With this sense of wonder, we encounter 'Forgot Password' (2017) the vivid abstraction of Nidhi Agarwal (b. 1972, New Delhi) that in its fluttery aquatic gestures seems to echo the light oscillations in the central pool. A sense of movement is accentuated by the mesmeric video 'Time Lost Falling in Love' (2020) by Dawn Ng in which a colourful cube slowly and purposefully melts, releasing a poetic drip of undecipherable yet relatable forms. An ultimate sense of titillation is conveyed by 'G+B' (2017) by Mona Rai, a sunlit sparkle on a pool of water, the punctuation of a sentence, the upwards look when a break is taken from reading, hearing, listening.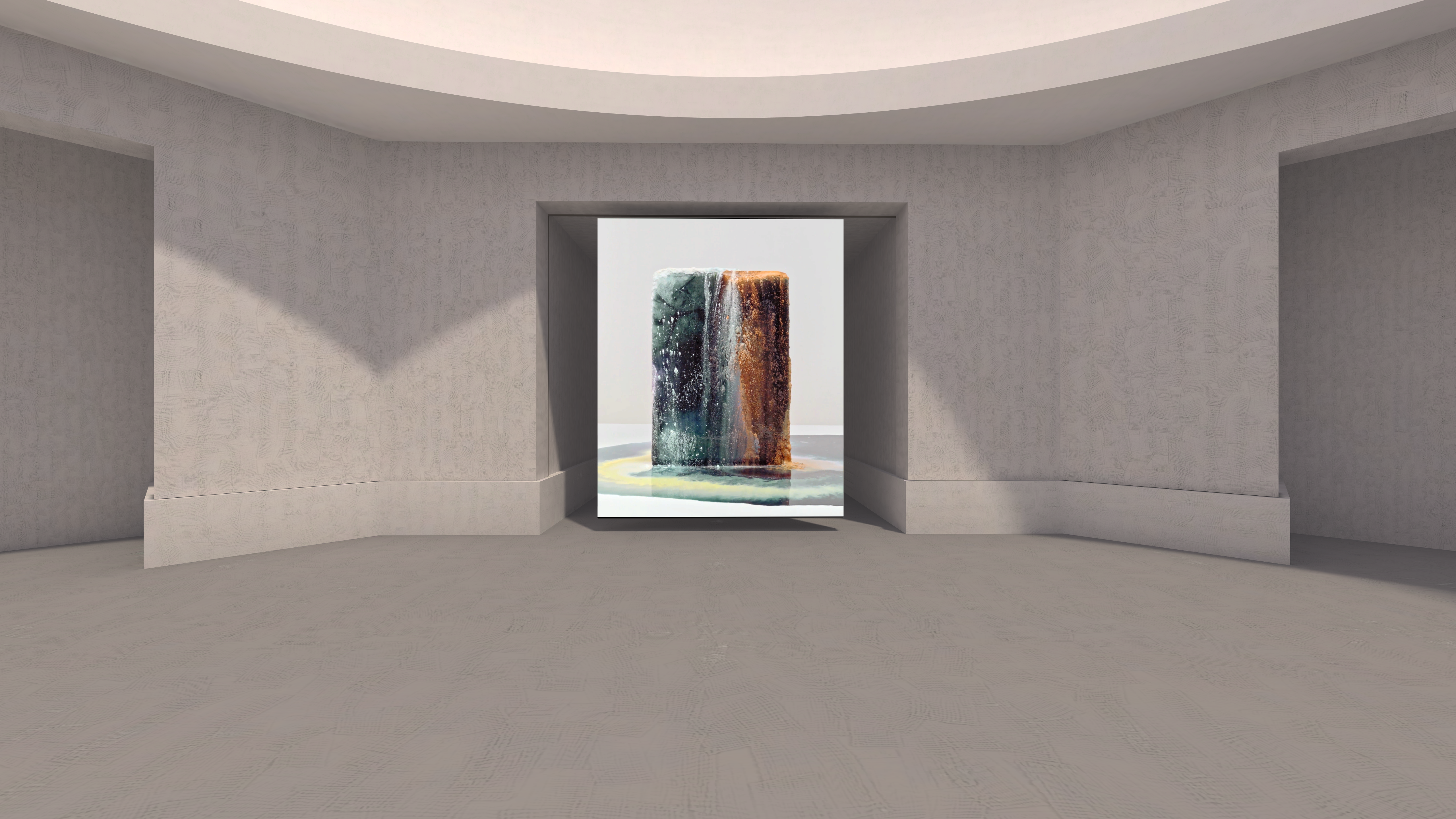 The Path brings us from the abstract and our internal fluidity back to flesh, form, legacy. The vivid red and gold leaf diptych, 'This Leprous Brightness' (2019) by Imran Qureshi, flanks the entrance to the lengthy space, casting a glow that is accentuated by the window slits in each alcove, which shed an ethereal warmth. Moving through, Innocent Nkurunziza's (b. 1986 Uganda, lives Rwanda) work 'Rhythms and Hues' (2020) invites us into a contemplative swirl, the detailed rings reminiscent of how one reads the age of a tree. Across, the first of several works by Amy Nathan (b. 1973, USA) dots the space: 'Offering', 'Murmur', 'Andromeda' (2019) each seem to cast elements of contemporaneity in ancient methods of marble and stone, prompting thought on contemporary archeology. In the vein of original and reinterpreted ancient techniques, Olu Odukoya's work in cast bronze prompts recognition of the ancient technique but also evolving figuration, especially when alongside 'Standing bird figure' (Oxus Culture, c 2200-1800 BC) created from white limestone and 'Handled 'Weight' with Animals and Heroes 'Intercultural Style" (Iran, Mid- to late third Millennium BC) made of chlorite. Ultimately there is a sense of tracing, gliding; our individual perceptions and interpretations of a page, a moment, a light touch captured and conveyed by 'Changes States-Phase 2' (2019) by Wing Po So (b. 1985, Hong Kong).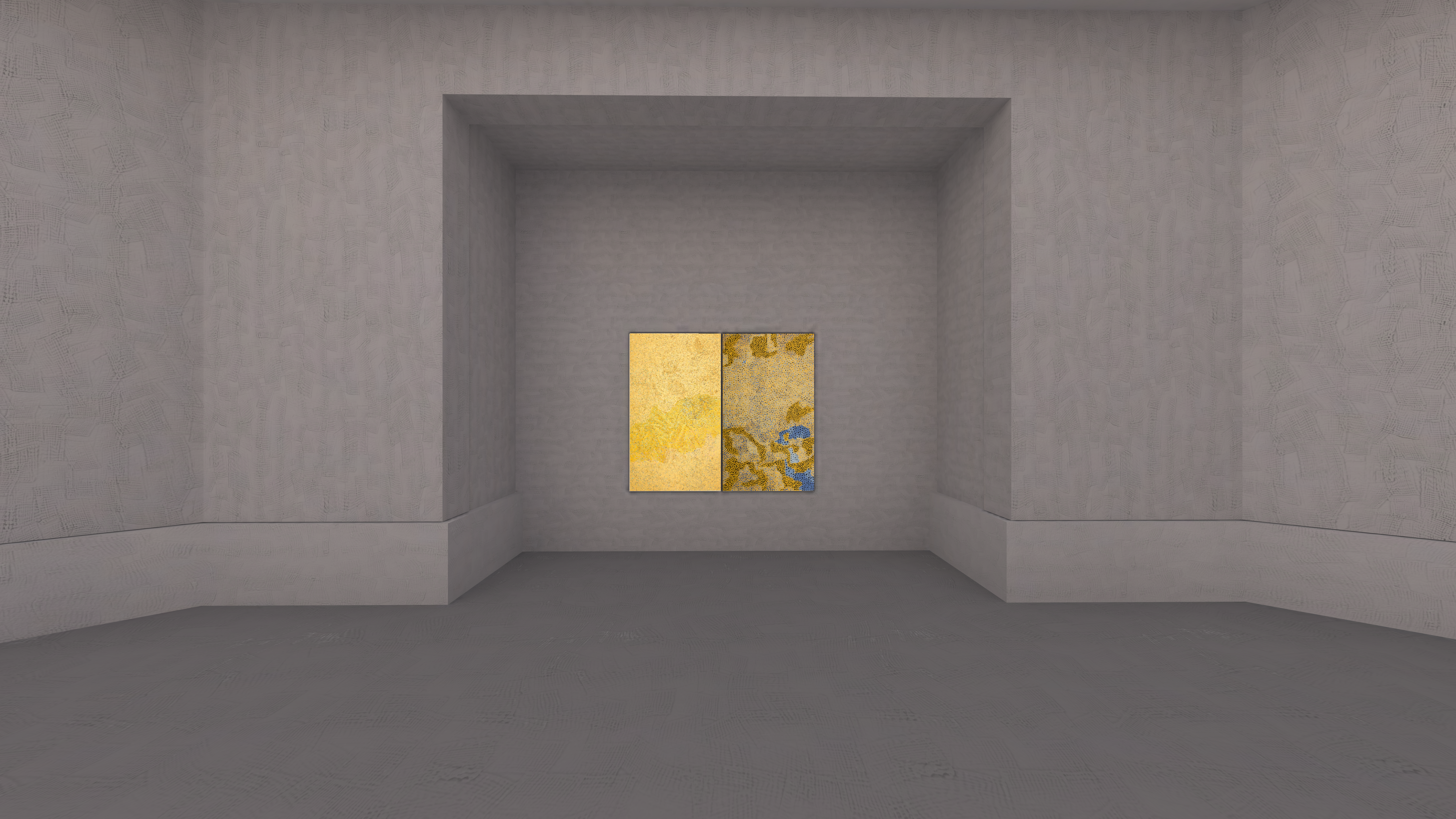 Ultimately AORA:II is about observation – reading, seeing, hearing, looking, feeling – and the different facets of being present as a foundation for what will be passed on and remembered.